Electrical Muscle Stimulation is an exceptional way to help the body in the healing process.
This is accomplished by sending a very small electrical current into the affected soft tissue injury or muscle spasm. The therapy utilizes this current to reduce swelling and release trigger points that may have the muscle locked up. This process helps the body to release natural pain relievers or endorphins, helping the muscle to relax and allow it to return to its normal state.
Therapy sessions are an excellent way to facilitate healing from acute and chronic pain.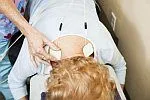 Benefits of Electrical Stimulation:
Reduces painful symptoms
Decreases local swelling
Promotes muscle tone
Restores normal movements
Releases the body's natural pain relievers
Accelerates the healing process