Spinal Decompression Therapy is a leading non-surgical alternative for disc related syndromes of the lumbar and cervical spine. Our program utilizes simple, yet sophisticated equipment manufactured by a leading rehabilitation equipment manufacturer in the US, The Chattanooga Group. Chattanooga's Titron ® DTS Decompressive Traction System is one of the most popular decompression system with over 1,200 installations worldwide.
Boyd Chiropractic Center is proud to be one of over 1,000 clinics nationwide to offer safe and effective Spinal Decompression Therapy utilizing the Chattanooga DTS system. Clinical advances in traction therapy have given new hope to millions suffering from the debilitating pain of damaged or degenerative discs and pinched nerves.
Your Comfort is Our Top Priority
A patient's comfort is our top priority, and we want their visits to be enjoyable and successful. Treatments are short in duration, most completed in under an hour, and administered while you're fully clothed. Many patients undergoing this treatment report improvements and a reduction in their pain after only a few sessions. Spinal Decompression Therapy gently stretches the spine, relieving pressure from the discs, joints and muscular tissues, while enhancing the body's natural healing process. The gentle distractive forces of the Titron® DTS creates decompression, the unloading due to distraction and proper positioning, to improve blood flow and important nutrient exchange to the injured area.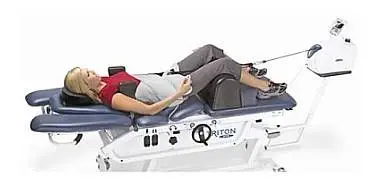 "My Husband & I have been patients with Dr. Boyd for several years. I started going to Dr. Boyd for my low back pain that was effecting my whole life. We both completed the spinal decompression treatments & it helped us get back to a healthy pain free life!!! I continue to go for maintenance treatments and adjustments. We love Dr. Boyd & are grateful we found such a great Chiropractor!!!"
– Gina and Chris A. - Castle Rock